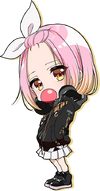 "A remix contest? Of course I would win!"
Inuyose Shinobu (犬寄しのぶ, Inuyose Shinobu?) is a character in the D4DJ franchise, and is the DJ of the group Peaky P-key.
Shinobu has straight pink hair that reaches down to her shoulders. A majority of her bangs are pulled back with a barrette. Her eyes are a gold color.
Shinobu is the DJ and brains of Peaky P-key. She and Kyoko are childhood friends, and they have a strong trust in each other. A very skilled DJ, also excels in remixing and track-making. Her hobby is online games, in which she is also famous. She is a very picky eater, and her diet is that of a young child. She is very arrogant, but has the most common sense in the unit.[1]
Inuyose (犬寄) can be split into two parts. Inu (犬), meaning dog, and Yose (寄) meaning to bring near or gather.
Shinobu (しのぶ) has no meaning as it is, but there are two possible meanings. 偲ぶ, meaning to recollect or remember, or 忍ぶ, meaning to hide.
Shinobu's grandfather. She loves him and even cites him as being her inspiration for becoming a DJ.
Kyoko has been a fan of Shinobu's work for a long time. As a child, Kyoko would pass Shinobu's house and would see Shinobu looking out from her second floor window. Kyoko refers to her as the "Princess trapped in that house" before knowing her actual name. Kyoko wanted to form a unit with her, but Shinobu didn't accept the offer because she didn't see Kyoko skillful enough. That is until the Christmas Eve of 7th grade when Shinobu finally give Kyoko the 'yes' that she wanted.
Muni and Shinobu do not get along and are almost always shown to be fighting when they're together. Due to their prideful natures they argue and bicker over the smallest things. The two also refer to each other with their full names. Their constant jabs at one another often causes others around them to feel uncomfortable.
Shinobu was initially wary of Noa, however the two started getting along after the game's first event story and when they went on a date to the game center in Shinobu's event card story.
Shinobu and Nagisa are cousins. They get along well, and Shinobu even calls Nagisa with the nickname "Nagi".
Shinobu's favorite type of game is FPS, and often boasts that she is unbeatable in the genre.[2]

She is also a big fan of the Monster Hunter series.

Shinobu uses the pseudonym "DJ Kunoichi".[3] Kunoichi (くノ一) means female ninja. In the past, she used the pseudonym "DJ Shinobin" - a name she regrets, as shown in one of her in-game dialogues with Nagisa, where she starts panicking after Nagisa mentions the name.
Shinobu has won Yoba Academy's Remix Contest, dubbed "RemiCon", 5 times.
Her family owns a dog called Hanzou.
Community content is available under
CC-BY-SA
unless otherwise noted.